Your Next-to-Last Chance for the Moondance in 2015
CALL-FOR-ENTRIES EXTENDED FINAL DEADLINE FOR SUBMISSIONS: JUNE 30TH
For your best chance, send in your entry RIGHT NOW!
 FILMS, SCRIPTS & FILM SCORES may be submitted to Moondance by the director, producers,cinematographer, DP, film score composer, writer, editor or lead actor(s), with permission from the producer/director, as needed!
Our submission categories:
Feature, short, documentary, & animation films, music videos, screenplays, stageplays, radio plays, short stories, treatments, kids scripts & films, TV pilots, and more!
Entry form & info: www.moondancefilmfestival.com
Moondance was recently listed by MovieMaker magazine as one of the top 50 film festival competitions worth the entry fee!
Moondance now also accepts scripts for judging in these languages: FRENCH, SPANISH, GERMAN, DUTCH & AFRICAANS.
 Our foreign-language readers are published writers & an award-winning screenwriter!
The Moondance International Film Festival, featuring its distinct cinematic visions and bold film selections, has distinguished itself around the world as much more than an annual film festival! The Moondance is a unique community, a supportive, productive, and creative year-round collaboration between independent filmmakers and movie audiences, between writers, composers and the world of top-quality filmed entertainment.
Withoutabox for Moondance International Film Festival is now fully active for this season's call for entries: www.withoutabox.com/login/1240
Moondance International Film Festival dates:
September 7th & 8th,, 2015
Boulder, Colorado USA
Check out the website for more info:
WEBSITE: www.moondancefilmfestival.com
NEWS-BLOG: www.moondancefilmfestival.com/blog
EMAIL: director@moondancefilmfestival.com
The Moondance International Film Festival is always independent, uncensored, totally unfettered, often irreverent, sometimes controversial, always entertaining, and definitely not beholden to any special interests! We select films, written works and music with these criteria: a unique story, well-told.
Moondancers are part of an amazing worldwide entertainment community; a unique collaboration of multi-talented writers, filmmakers, and film score composers. The Moondance mission is to entertain, inform, inspire, encourage and educate. We honor those artists who, through their creative work, actively increase awareness, provide multiple viewpoints, address complex social issues, and strengthen ties between international audiences. At Moondance, you can come together with other writers, directors and producers to create new opportunities, develop tools for success and forge new alliances within the international film and entertainment industry.
In our continuing efforts to promote top-quality original filmmaking, writing and music composition by talented artists from around the world, the Moondance International Film Festival is very pleased to announce that our festival competitions have brought in great submissions, in all categories, from: Argentina, Australia, Austria, Bangladesh, Belgium, Bosnia & Herzegovina, Brazil, Bulgaria, Canada, Grand Cayman, China, Colombia, Costa Rica, Croatia, Curaçao, Cyprus, Denmark, Egypt, Estonia, Finland, France, Georgia, Germany, Greece, Iceland, India, Iran, Iraq, Ireland, Israel, Italy, Korea, Lithuania, Luxemburg, Malta, Marshall Islands, Mexico, Montenegro, Netherlands, New Zealand, Norway, Peru, Romania, Russia, Serbia, Singapore, Slovenia, South Africa, Spain, Sweden, Switzerland, Tasmania, Turkey, Ukraine, United Arab Republic, the UK & US, Venezuela, and more!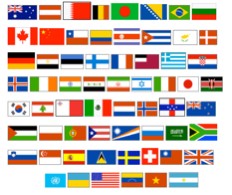 WHY THE "TOMORROWLAND" LEAD CHANGED FROM MALE TO FEMALE:
"Tomorrowland" character Casey was originally written for a male actor, but a switch to a female lead was better for the script, according to co-writer Damon Lindelof. "There is a completely false perception of, 'Well, our main character is interested in space travel, so it's gotta be a boy,' but the first time I said, 'Well, what if it was a young girl'… It just felt like it was exactly right for us," Lindelof said. "It'll be nice in 10 or 15 years for this not to be a thing anymore," he added. Geena Davis Institute on Gender in Media, working to create positive images of girls and women in media & entertainment: www.seejane.org
A MOONDANCER WRITES US:
 "I love that you have a music portion as part of your festival. The composers and others who create original music for film get too little attention at festivals. I'm really proud of both the score and the original music in my film." ~ Mikki Del Monico, award-winning filmmaker, screenwriter, Venice Beach, CA, www.mikidel.com
SOME THINGS TO CONSIDER:
SUBMIT YOUR ENTRY TODAY! DON'T BE A SNAIL!
Please forward this news-blog to your creative artist colleagues!
 QUESTIONS OR COMMENTS?
director@moondancefilmfestival.com
WEBSITE: www.moondancefilmfestival.com
BLOG: www.moondancefilmfestival.com/blog
No trees or natural habitats were harmed
in the creation of this news-blog!