You Can Make a Big Splash at the 2016 Moondance!
MOONDANCE 2016 CALL-FOR-ENTRIES:
Accepting submissions
through June 30, 2016
Lights, Camera, Action! The Moondance International Film Festival invites all talented US & International filmmakers, writers and music composers to submit their films, written works and film scores to our 17th annual season, planned to take place in September 2016, our fabulous & memorable festival event location venue will be announced very shortly.
Moondance is known as the "American Cannes" of film festivals, and features the very best of indie films, music & writing by talented artists from around the world, Plan now to participate in this unique competition and film festival! For the last 16 years, the annual Moondance International Film Festival has showcased many hundreds of top-quality award-winning indie films, and hosted filmmakers, writers, composers, actors, industry professionals and media, from around the world.
PLEASE VISIT THESE PAGES ON THE WEBSITE FOR MORE INFO:
LINK TO SUBMISSION CATEGORIES LIST
LINK TO AWARDS CATEGORIES LIST
LINK TO THE MOONDANCE MISSION STATEMENT
Moondance is also accepting submissions at:

 MOVIEBYTES members can get a $5 discount on Moondance entry fees until the regular submission deadline, with the special MovieBytes code! And it's free to become a MovieBytes member.
WHAT'S IN THIS NEWS-BLOG:
CALL FOR ENTRIES 2016
NETWORKING OPPORTUNITIES AT THE 2016 MOONDANCE
INSIDER TIPS: First Impressions
4 NEW FESTIVAL SPONSORS ANNOUNCED
MOONDANCE RECOMMENDATIONS: CASA Advocates for Children, Save the Monarch Butterflies
• SOME THINGS TO THINK ABOUT
GNOME-HOMES KICKED OUT OF PARK
PEOPLE YOU CAN MEET AT THE 2016 MOONDANCE:
Our fabulous 2016 film festival program is simply packed with an incredible line-up of inspiring and top-quality, entertaining films from around the world, professional workshops and pitch-panels, celebrities, photo-ops, and productive networking parties, plus our not-to-be-missed gala awards ceremony and reception. Plan to come help us celebrate the 17th annual Moondance International Film Festival!
Let's do some productive networking!
Literary agents, story editors, acquisitions execs, film studio execs, development execs, producers, directors, film & script editors, career coaches, actors' agents, film & music distributors, indie filmmakers, screenwriters, music composers & arrangers, playwrights, writers, film crews, lyricists, novelists, short-story writers, ghost-writers, script doctors, film festival directors, executive producers, film production funders, film buffs, the media, animators, costume designers, directors of photography, cinematographers, drone filmmakers, musicians, film-score composers, film production designers, book publishers, videographers, television producers , directors & show-runners, audio program writers & producers, website developers, journalists, line producers, sound designers, stageplay producers & directors, casting directors, script supervisors, location scouts, publicists, art directors, set designers & decorators, actors, acting coaches, film sales agents, film commissioners, foreign filmmakers, writers & composers, photographers, public relations specialists, and more! Plan to attend the 2016 Moondance; don't miss your best opportunity to connect with the international film community!
Take a look inside the Moondance photo album!
Click on album image
INSIDER TIPS FOR SCREENWRITERS & FILMMAKERS:
FIRST IMPRESSIONS:
TITLES & LOGLINES
by Elizabeth English
Have a fabulous, unique idea for a movie? That's wonderful, but you need to know how to turn your great story into a great logline. There is and always has been only one real secret to success in the entertainment industry: Tell a great story. Period. And you need to figure out how to tell that fabulous story in only 25 words or less! You need to learn how to get your script idea enthusiastically read by an agent and then a producer, director and actors. Learn what they look for in a title and logline. Your first impression to these movers and shakers is all about the fine art of pitching your film or screenplay, your TV series concept, your film, or story idea, via your eye-catching and memorable title and logline.
"SELL THE SIZZLE; NOT JUST THE STEAK!"
A great title for your film or screenplay is the first (and maybe only) introduction to an agent, a producer, director or studio. "You've got 3 minutes; pitch me what you've got," is what you'll hear from the entertainment industry movers & shakers who might buy your project. But you probably wouldn't even get that meeting or a reply to your query letter, if you didn't have an interesting title and logline that caught their eye.
You can almost always find that great, eye-catching title within your screenplay text, and then write a sizzling logline to go with it. Know how to "dress" your script for success, make it stand out from all the others, and get it noticed in the first round. READ MORE!
FOUR 2016 FILM FESTIVAL EVENT SPONSORS ANNOUNCED!
From the UK, Canada, New York & Colorado
The 2016 Moondance International Film Festival is very pleased to announce our first four event sponsors! Their generous support is greatly appreciated, and will make the 2016 film festival the best ever! For information on supporting the upcoming film festival, please see our sponsor pages on the website: www.moondancefilmfestival.com
RED CARPET ENTERPRISES was founded by Alan Rogers in 1996 and rapidly became a leading name in the organisation of exclusive corporate retreats for FTSE 100 and Fortune 500 companies across the globe. The company expanded into the organisation of individual trips and private events for HNWI, their families and groups of friends.  The Red Carpet Concierge Club provides access to unique experiences and the unattainable. Rogers steered Red Carpet Enterprises to win the Vision 100 award for the top 100 UK visionary companies in both the private and public sector. Having achieved over a million miles of air travel, worked in over 54 countries, toured the world's most iconic of cities and reviewed the most prestigious of hotels and resorts, Rogers and his team are perfectly placed to give advice on the worldwide luxury market. Red Carpet Enterprises & Concierge Club have also organised many prestigious International events making them the perfect partner for such a prestigious film festival. http://www.redcarpet.co.uk
XII Tribes Entertainment, a media company, was founded by industry insiders Ysé Brisson and Michel Zgarka. It is based in Canada with regional offices in Paris, New York, London and Los Angeles as well representation offices in Beijing, Singapore and Rome. It has extensive knowledge and expertise in securing funding and producing for the international marketplace.  The company funds and develops all of its own proprietary Intellectual Properties. XII Tribes Entertainment has built over the past few years a fully multi-platform slate of proprietary intellectual properties ranging from theatrical feature films, Prime-time scripted drama, animation, factual & reality shows and is actively working in creating new streams of monetization for all of its properties. The company also makes substantial acquisitions of revenue generating media properties as well as further monetize its new technologies. www.xiitribesentertainment.com
LGMA, the global media consulting company, was first created in 2007 by Georges Leclere to promote Eco-TV programs including format game shows Go For Green! and District Green and drama series, GWEN. After 10 years as director of the United Nations Media & Television, Leclere headed the International Emmy Awards as well as the competitions and awards of the Banff World Media Festival in Canada, adding new TV competitions to its lineup. Today, LGMA is involved and partnering with the Seoul Drama Awards in Korea, the War and Peace Media Company in Russia and the Sichuan TV Festival in China. LGMA advises international companies on worldwide media ranging from classic television events to future visual media on any platform. www.lgma.tv
7SEAS PRODUCTIONS, founded by Elizabeth English, an award-winning filmmaker & screenwriter, in 2000, is a consulting company for screenwriters, filmmakers and music composers, offering insider tips, film & script editing, original screenwriting, music arranging, ghost writing, film & script consultations & creative input on storyline, plot, characterizations, loglines & synopses, as well as rewrites & polishes, at affordable rates. 7Seas Productions has also produced the Moondance International Film Festival annually. https://moondancefilmfestival.com/7seas-productions/
MOONDANCE RECOMMENDS & SUPPORTS:
Mission: The National Court Appointed Special Advocate Association, together with its state and local member programs, supports and promotes court-appointed volunteer advocacy so every abused or neglected child in the United States can be safe, have a permanent home and the opportunity to thrive. Read more about us.
CASA/GAL volunteers are appointed by judges to watch over and advocate for abused and neglected children, to make sure they don't get lost in the overburdened legal and social service system or languish in inappropriate group or foster homes. Volunteers stay with each case until it is closed and the child is placed in a safe, permanent home. For many abused children, their CASA/GAL volunteer will be the one constant adult presence in their lives.
Judges appoint CASA volunteers to represent the best interests of children who have been removed from their homes due to abuse or neglect. Each year, more than 600,000 children experience foster care in this country. Because there are not enough CASA/GAL volunteers to represent all of the children in care, judges typically assign CASA /GAL volunteers to their most difficult cases. Read the stories of young people whose lives were changed by the support of a CASA/GAL volunteer.
~~~~~~~~~~~~~~~~~~~~~~~~~~~~~~~~~~~~~~~~~~~~~~
Imagine yourself standing in an open forest and watching in wonder as thousands of delicate monarch butterflies begin floating slowly in, settling down to cover every inch of every tree.
That's what happens when one of nature's most astounding migration events occurs each year in North America. Every autumn, tens of millions of monarchs take flight on a remarkable 3,000-mile journey from the northeastern United States and Canada to their ancestral wintering grounds in the forest mountains of central Mexico. Each migration follows the same route as it did the year before. Milkweed, the only plant on which monarchs lay their eggs and the only source of food for baby caterpillars, is disappearing all across the United States due to herbicide use and land conversion.
Now imagine this route being destroyed. Our ever-growing demand for food, fuel, and living space results in the loss of more butterfly habitat and more milkweed (the only food source for monarch larvae) every year. Further, illegal logging is ruining their wintering grounds in Mexico. Monarch populations have been on the decline for decades. The good news is that together, we can save them!
That's why we're launching the Monarch Squad today—a group of WWF supporters who are at the ready to help monarchs. As a member of the Monarch Squad, you will be part of WWF's effort to save the monarch butterfly. Throughout 2016 and beyond, we're going to restore the butterflies' milkweed habitat and work with companies and policymakers to take critical action. Start today and take the first step toward saving these magical creatures. We've set a goal of getting 1 million supporters to come together with WWF to help us save the monarch butterfly. Will you join us? JOIN NOW
SOME THINGS TO THINGS ABOUT TODAY: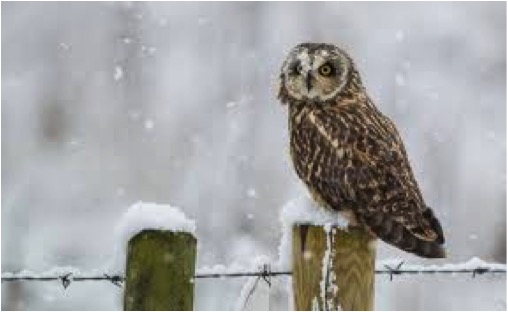 "If you watch how Nature deals with adversity, continually renewing itself, you can't help but learn something." ~ Edith Sitwell
~~~~~~~~~~~~~~~~~~~~~~~~~~~~~~~~~~~~~~~~~~~~~~
"Wind from the Sea" by Andrew Wyeth
"Art is the window to one's soul. Without it, we would never see beyond our immediate world, nor could the world see within us." ~ Lady Bird Johnson
~~~~~~~~~~~~~~~~~~~~~~~~~~~~~~~~~~~~~~~~~~~~~~
"There are two ways of spreading light: to be the candle or the mirror that reflects it." Edith Wharton
~~~~~~~~~~~~~~~~~~~~~~~~~~~~~~~~~~~~~~~~~~~~~~
"The visionary starts with a clean sheet of paper – and re-imagines the world!" ~ Malcom Gladwell
GNOME HOMES KICKED OUT OF THE PARK!
By Deb Kiner, @ Pennlive,com February 24, 2016
Gnome Home by Steve Hoke
The 7-year-old girl had just finished her last chemo treatment. Her dad asked what she wanted to do – she said she wanted to see in person the gnome houses that she had seen on Facebook. Hoke was pulling a garden wagon full of the 38 gnome houses that since early December have been a wildly popular attraction along Fisherman's Trail in Little Buffalo State Park, PA. Hoke offered her a gnome house. "That has kind of been the draw. It has just been a wonderful thing. We have seen so many kids out there," Hoke said.
The gnome houses had been evicted by park management and needed to be removed by Feb. 29. Hoke was told the gnome homes "upset the balance of nature." Hundreds of people have walked the trails, eagerly looking for the homes, sometimes adding little furniture, gnome statues, notes and coins. "That was another special part: the interaction that people had with those things. Each home had a saying – "Gnomes are nature's work," "Gnome home," "Gnome throne," "Smell the trees," "Work hard; gnomes do," "Dream big." In the end, it may have been the popularity of the homes that led to their demise. "My ultimate goal was to get kids out of their houses and away from their electronics and go for a walk. That is exactly what happened," Hoke said. READ MORE (article excerpted & edited by EE)
LET'S BUILD OUR OWN GNOME HOMES!
Please forward this news-blog to your creative artist colleagues!
 QUESTIONS OR COMMENTS?
EMAIL: moondancefestival@gmail.com
WEBSITE: www.moondancefilmfestival.com
BLOG: www.moondancefilmfestival.com/blog
No trees or natural habitats were harmed in the creation of this news-blog!