The 2016 Moondance Film Festival Wants YOU!
MOONDANCE 2016 CALL-FOR-ENTRIES:
Accepting submissions
January 1 through June 30, 2016
PLEASE VISIT THESE PAGES ON THE WEBSITE FOR MORE INFO:
LINK TO SUBMISSION CATEGORIES LIST
LINK TO AWARDS CATEGORIES LIST
LINK TO THE MOONDANCE MISSION STATEMENT
Moondance is also accepting submissions at:

 MOVIEBYTES members can get a $5 discount on Moondance entry fees until the regular submission deadline, with the special MovieBytes code! And it's free to become a MovieBytes member.
~~~~~~~~~~~~~~~~~~~~~~~~~~~~~~~~~~~~~~~~~~~~~~~~~
SEE WHY PRODUCERS MADE MORE THAN 30 MOVIES IN 2014 ALONE FROM SCRIPTS AND WRITERS FOUND ON INKTIP!
(InkTip Magazine featuring several of InkTip's more than 200 produced features.)
Producers Register Now (it's free!):
Find scripts fast and easy!
Writers Register Now & List Your Scripts:
Sell your scripts!
MOONDANCE SCREENWRITER ALERT!
InkTip.com, a long-time festival supporter, offers the unique opportunity for annual Moondance screenwriting winners to have their winning title, logline, synopsis & script posted on the InkTip.com website, AT NO COST, for literary agents, producers & directors to see! Submit your screenplay now: moondancefilmfestival.com
February 23, 2016 is exactly 17 years since I sat down early one morning at my computer, with a cup of coffee, and started the Moondance International Film Festival! ~~EE
Drawing by Elizabeth English
Beauty Mark is for anyone who has ever felt invisible because they didn't conform to our culture's impossible, unhealthy, abnormal beauty standards. This courageous film examines popular culture's toxic emphasis on weight and looks through the eyes of Boulder-based psychotherapist and former world-class triathlete Diane Israel– who tells her own story while interviewing other champion athletes, body builders, fashion models and inner-city teens about their experiences relating to self-image.
This deeply personal and funny film asks some tough questions … How do our families influence our relationships with our own bodies?  How do popular culture "standards" get inside of our hearts and heads?  In what ways can sports actually make us sicker instead of healthier?  Former champion athletes, including David Scott, Ellen Hart Pena and Brenda Maller share their stories while notable luminaries such as playwright Eve Ensler, author Paul Campos and cultural critic Naomi Wolf provide their insights.
An elite runner and triathlete until age 28, Diane won the Pikes Peak Marathon and several other major races after settling in Colorado in the early 1980s. She retired from competition after collapsing from anorexia (sometimes called  "athletic bulimia", a disorder many athletes suffer from, but which few experts knew anything about at that time). Diane went back to school to become a psychotherapist and is now a professor of human development at Naropa University, a counselor and the co-owner of a women's fitness center. She continues to run, but strives to live her life at a less frantic pace. info@beautymarkmovie.com
If you are interested in purchasing the film or hosting a screening in your community, Beauty Mark, in partnership with Media Education Foundation (MEF), is now accepting orders for the 50-minute Educational Edition of Beauty Mark.
"LET'S MAKE MOVIES THAT WOMEN ASPIRE TO, AND ADMIRE" ~ Geena Davis
Geena Davis is best known for the memorable characters she has portrayed, whether it is the rebellious Thelma in Thelma and Louise, a baseball phenomenon in A League of Their Own ,and the first female President of the US, in the TV show Commander in Chief. But since setting up the non-profit Geena Davis Institute on Gender in Media, she has also been recognised as an advocate for representation of girls and women in films and television programming. She was appointed Special Envoy for Women and Girls in Information and Communications Technology for the UN's International Telecommunication Union; she is also an official partner of UN Women, and the Chair of the California Commission on the Status of Women.
Academy award-winning actor Geena Davis spoke with Forbes India Magazine in Mumbai, on Gender in media, and discussed a host of issues affecting women in media, as well as the need for gender-neutral casting, the openly biased pay discrepancies in film and on television, and how important it is for young girls to see well-written female characters on screen. "I think we will change the way we value women if we see them as 50% of the characters and doing half of the interesting and important things. In other words, life can imitate art," Davis said, adding, "[Daisy Ridley plays Rey in 'Star Wars: The Force Awakens'], and it is the most successful movie of all time. We don't need any further proof that audiences will go in droves to see movies that are about women characters." READ MORE:
SOME THINGS TO THINK ABOUT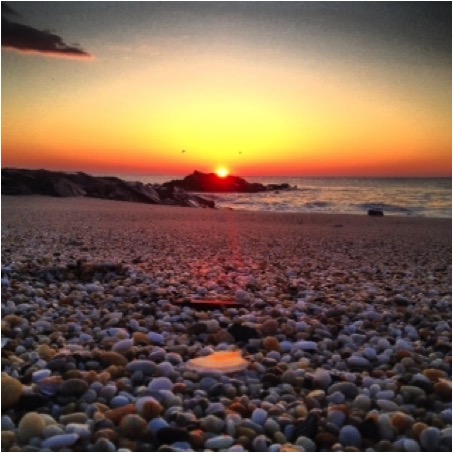 "Sea Glass at Sunset", photo by Barb Youchah
"One cannot lead a life that is truly excellent without feeling that one belongs to something greater and more permanent than oneself" Mihaly Csikszenthmihali (Hungarian psychologist, who created the psychological concept of flow, a highly focused mental state)
~~~~~~~~~~~~~~~~~~~~~~~~~~~~~~~~~~~~~~~~~
"They shall beat their swords into plowshares, and their spears in pruning hooks; nations shall not lift up sword against nation, neither shall they learn war anymore." ~ Isaiah 2:4 (8th century BCE)
MOONDANCE RECOMMENDS & SUPPORTS
Save Alaska's Ancient Trees!
After years of public outcry in defense of Alaska's Tongass National Forest, the U.S. Forest Service finally declared it would end clearcut logging of old-growth trees — many of which are centuries old. But a new plan just released by the agency doesn't do that at all. It calls for 15 more years of business as usual for old-growth logging.
We need your help now, to protect this majestic temperate rainforest — by far America's largest national forest.
The new plan to log ancient trees in the Tongass will destroy irreplaceable habitat for bears, owls, salmon and wolves. This area is truly world-class, but it's being exploited beyond what it can sustain & recover!
Act now to protect this national treasure from harmful old-growth logging. Tell the Forest Service to revise its draft plan and better manage the Tongass for wildlife. TAKE ACTION NOW!
Please forward this news-blog to your creative artist colleagues!
 QUESTIONS OR COMMENTS?
WEBSITE: www.moondancefilmfestival.com
BLOG: www.moondancefilmfestival.com/blog
No trees or natural habitats were harmed in the creation of this news-blog!