Moondance Official 2016 Call-For-Entries Opens & Happy New Year!
The new year stands before us, like a chapter in a book, waiting to be written!
Happy New Year!
Et une Très Bonne Année 2016!
~ From Moondance, Elizabeth & Georges
MOONDANCE 2016 CALL-FOR-ENTRIES:
Accepting submissions
January 1 through June 30, 2016
PLEASE VISIT THESE PAGES ON THE WEBSITE FOR MORE INFO:
LINK TO SUBMISSION CATEGORIES LIST
LINK TO AWARDS CATEGORIES LIST
LINK TO THE MOONDANCE MISSION STATEMENT
Moondance is a unique, world-class venue for bold and visionary filmmakers, writers and composers to present their work to the cinema-loving public who are looking for quality alternatives to all those blockbuster studio movie projects. Our top-quality film screenings are always of entertaining and thought-provoking indie films, and the film festival attracts the cinema-loving public, filmmakers, writers & musicians, but also international talent, music & literary agents, actors, production companies, film distributors, and established producers.
As we prepare for the 2016 Moondance International Film Festival, our 17th annual event, and to make our global goals a reality, through entertainment, film, writing & music, there has never been a better or more important time or place to speak up, stand up, and rise up to help make the world a better place for all. We hope you'll join us and actively participate in our shared to-do list and this important effort now.
WHAT IS IN THIS BLOG:
MOONDANCE 2016 CALL-FOR-ENTRIES
GIRL UP!
THE ART OF OBSERVATION
YOUR SMART-PHONE…
SOME THINGS TO THINK ABOUT TODAY
7SEAS PRODUCTIONS CONSULTATION OFFER
MOONDANCE RECOMMENDS & SUPPORTS:
Campaigns like our "Girl Up", the movement to empower adolescent girls at the United Nations Foundation, are so vitally important. The Foundation's global goals reaffirm the simple principle that the United Nations Foundation has believed in and worked for since 2010: when girls are educated, healthy, and counted, they can change the world. With the support and guidance of our incredible network of more than half a million adolescent girl leaders around the world, Girl Up has powered critical UN programs in Ethiopia, Guatemala, Liberia, Malawi, and India – just some of the places where it's hardest to be a girl. These programs help fulfill vital needs like access to quality education and healthcare, advocacy against child marriage, and making sure that girls' voices are heard.
Learn more about how Girl Up unites girls to change the world in this short video.
It takes all nations and all sectors to make progress on the most important and far-reaching international challenges. The UN Foundation is an advocate for the UN and a platform for connecting people, ideas and resources to help the United Nations solve global problems. http://www.unfoundation.org
THE ART OF OBSERVATION:
Learning to Really Look
Active observation, being mindful of our surroundings, is how we make sense of things; it's an incredibly valuable tool. By taking the time to observe, without judgment, bias, preference or prejudice, by using your previous knowledge, by noticing changes, you can begin to unravel the mysterious, unlock the problem and with your naturally creative and critical thinking skills, you take the consequent correlations and connections, and begin to form understanding. Like any habit worth forming the ability to observe and make deductions can be improved with deliberate practice. With a creative-thinking, engaged and enquiring mind, the power of observation can be developed by cultivating habits of watching. To writers, filmmakers, musicians, artists, 'people-watching' is as important as practicing scales is to a pianist.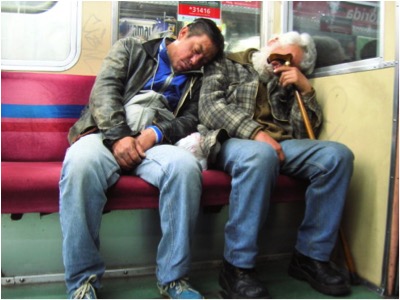 Take a few minutes each day to focus outwardly at the world around you, and learn from the interactions, the expressions, the movements, the textures and shades of human life. There is no one-way or right way to do it. By developing our visual sense, our visual literacy we are better able to immerse ourselves in our experience of our surroundings. We spark our imaginations when we notice things. We don't think in a linear fashion, but instead draw on the network of connections we have created over time.
We were given five senses but without attention, any one of these is flattened and is as useless as a deflated balloon. Pump up your visual sense and your day becomes a brighter place. Look up from your smart phone, look out at the horizon, or zoom in to the nook and crannies, climb to tallest building and look down at people scurrying like ants, or lie in the grass and watch the clouds turn into faces. Sit with a small child and see what they see, look through the glass into the gorilla enclosure and wonder what those intelligent eyes are conveying, search out all the public art or graffiti in your area and stop for a while to contemplate what the artist was thinking when they made it. Take a walk through a forest and see how the branches twist and turn from one tree to the next, like scribbles in the sky. Tramp along a beach and see how many colours you can count in the pebbles or grains of sand.
Peer out of the airplane window when you go on holiday and marvel at the patterns below, then look at the lines on the palms of your hands and see how the DNA of the planet and ourselves are interconnected. Keep a visual journal with you to scribble down what you see, in doodles or notes, and question the make-up of your observations. What more can you learn from what you have seen? How can you use these observations to improve and deepen your writing, filmmaking & music composition? ~ Lou Hamiltion (article condensed & edited by EE)
YOUR iPHONE IS RUINING YOUR POSTURE — AND YOUR MOOD!
By AMY CUDDY, DEC. 12, 2015, NYT
There are plenty of reasons to put our cell-phones down now and then, not least the fact that incessantly checking them takes us out of the present moment and disrupts family dinners around the globe. But here's one you might not have considered: Smart-phones are ruining our posture. And bad posture doesn't just mean a stiff neck. It can hurt us in insidious psychological ways.
If you're in a public place, look around: How many people are hunching over a phone? Technology is transforming how we hold ourselves, contorting our bodies into what the New Zealand physiotherapist Steve August calls the iHunch. I've also heard people call it text neck, and in my work I sometimes refer to it as iPosture. When we're sad, we slouch. We also slouch when we feel scared or powerless. Studies have shown that people with clinical depression adopt a posture that eerily resembles the iHunch.
So, the next time you reach for your phone, remember that it induces slouching, and slouching changes your mood, your memory and even your behavior. Your physical posture sculpts your psychological posture, and could be the key to a happier mood and greater self-confidence. READ MORE
Amy Cuddy is a professor at Harvard Business School and the author of the forthcoming book "Presence: Bringing Your Boldest Self to Your Biggest Challenges."
SOME THINGS TO THINK ABOUT TODAY:
"We are each of us angels with only one wing. The only way we can fly is by embracing one another." ~ Luciano de Crescendo
~~~~~~~~~~~~~~~~~~~~~~~~~~~~~~~~~~~~~~~~~~~~~~~~~~~~~~~~~~~~~~
"Let our New Year's resolution be this: we will be there for one another as fellow members of humanity, in the finest sense of the word." ~ Greg Persson
~~~~~~~~~~~~~~~~~~~~~~~~~~~~~~~~~~~~~~~~~~~~~~~~~~~~~~~~~~~
"If you believe in what you are doing, then let nothing hold you back! Much of the best work in the world has been done despite seeming impossibilities. The thing is to get the work done." ~ Dale Carnegie
~~~~~~~~~~~~~~~~~~~~~~~~~~~~~~~~~~~~~~~~~~~~~~~~~~~~~~~~
"Let the one who would be grateful think of repaying the kindness while it is being received." ~ Seneca
~~~~~~~~~~~~~~~~~~~~~~~~~~~~~~~~~~~~~~~~~~~~~~~~~~~~
"Love has nothing at all to do with what you are expecting to get – only with what you are expecting to give, which is everything." ~ Katherine Hepburn
~~~~~~~~~~~~~~~~~~~~~~~~~~~~~~~~~~~~~~~~~~~~~~~~~~~~
"Yesterday is history. Tomorrow is a mystery. And today? Today is a gift. That's why it's called the present." ~ Babtunde Olatunji, Nigerian drummer, educator, social activist
~~~~~~~~~~~~~~~~~~~~~~~~~~~~~~~~~~~~~~~~~~~~~~~~~~
PROFESSIONAL COVERAGE OF YOUR SCRIPT OR FILM!
Ready to get your screenplay or film on the right track? 7seas Productions now offers script reading services, critiques, coverage and edits to all screenwriters, playwrights & filmmakers, and to production companies and agencies, at special discount prices!
Focusing on the elements crucial to creating a compelling and readable script, and/or a winning, marketable film, our helpful comments will allow you to concentrate on solving the problems that will make your material move toward receiving a CONSIDER or a RECOMMENDED from a studio or production company reader, and will assist in advancing your script or film up toward WINNER in screenwriting competitions & film festivals.
An advantage of this low-cost critique service is that we will help you prepare your screenplay before sending it to screenwriting competitions, film producers, agents, managers and others who may have requested it. READ MORE
7seas Productions annually produces theMoondance International Film Festival, and also offers film festival start-up consultations!
~ ELIZABETH ENGLISH ~
Please forward this news-blog to your creative artist colleagues!
QUESTIONS OR COMMENTS?
WEBSITE: www.moondancefilmfestival.com
BLOG: www.moondancefilmfestival.com/blog
No trees or natural habitats were harmed in the creation of this news-blog!