Moondance Call-For-Entries Reminder & Tips On Writing A Treatment
For your best chance to win, send in your entry RIGHT NOW!
REGULAR SUBMISSION DEADLINE: MAY 30*
LATE SUBMISSION DEADLINE: JUNE 30*
 See our submission categories HERE!
Read our submission guidelines HERE!
Official Entry Form HERE!
Withoutabox for Moondance International Film Festival is now fully active for this season's call for entries: www.withoutabox.com/login/1240
Moondance International Film Festival dates:
September 7th & 8th,, 2015
Boulder, Colorado USA
The Moondance International Film Festival, featuring its distinct cinematic visions and bold film selections, has distinguished itself around the world as much more than an annual film festival! The Moondance is a unique community, a supportive, productive, and creative year-round collaboration between independent filmmakers and movie audiences, between writers, composers and the world of top-quality filmed entertainment.
Check out the website for more info:
WEBSITE: www.moondancefilmfestival.com
NEWS-BLOG: www.moondancefilmfestival.com/blog
EMAIL: director@moondancefilmfestival.com
 "I had a look at your festival and it's great! It's amazing to see that there are still completely open-minded film institutions out there." ~ Ally Shina, Screenwriter, Port Saint John's, South Africa
INSIDER TIPS:
WRITING A SCRIPT TREATMENT THAT SELLS!
Excerpted & edited from these recommended resources:
http://www.wheresthedrama.com/thetreatment.htm
 http://www.movieoutline.com/articles/how-to-write-a-treatment.html
http://www.lightsfilmschool.com/articles/treatments/
http://www.filmmakers.com/features/screenwriting/treatment.htm
Writing a treatment is a skill that can help any screenwriter succeed, at any point in the creative process. There are at least three parts of getting a screenplay sold or financed. Learning to write a treatment can jumpstart a writer's career because it allows a screenwriter to communicate his or her screenplay idea in a brief but compelling way. It also can be a powerful diagnostic and creative tool.
This document should read like a short story and be written in the present tense. It should present the entire story including the ending, and use some key scenes and dialogue from the screenplay it is based on.
What Should Be in the Treatment?
A Working title

The writer's name and contact information

WGA Registration number

A short logline

Introduction to key characters

Who, what, when, why and where.

Act 1 in one to three paragraphs. Set the scene, dramatize the main conflicts.

Act 2 in two to six paragraphs. Should dramatize how the conflicts introduced in Act 1 lead to a crisis.

Act 3 in one to three paragraphs. Dramatize the final conflict and resolution.
A treatment may be defined as a prose narrative (five to twenty-five pages long) that presents the characters and events of a proposed script, movie or television series, in a way that allows the reader to enter far enough into the drama to understand the ways in which the story and characters will be treated, including a vivid sense of the characters' and story's attitudes as well as the movement of the emotional energy and its relationship to what the story is about (theme). 
Generally speaking, a film's treatment is similar to that of an overview or synopsis of the film idea. It usually ranges from 8 to 15 pages and includes all the important conceptual elements, structured in 3-5 acts, each with a beginning, middle and end. When you submit your script, your treatment will often be the first document to be glanced over. If the main concept is enjoyable and your treatment is well written maybe, just maybe, your script will make it into the hands of the "professional script reader". This is an important element of screenwriting which you should know about. When you submit your script to producers, you will not be submitting your scripts to the major decision makers first. Your script will first have to pass through a filter that these large production companies have put in place.
A film treatment states how the audience will experience the film. It's important to write treatments in an active voice and avoid the use of hyperbole (such as "this unique film will explore" etc). When writing treatments you want your audience to be able to visualize your film. You will want to write in present tense and provide an overview of the characters, locations and details of the film. You can write your treatment creatively. The purpose of a treatment is to allow your audience to smell, taste and experience your environment. Reading a treatment (second only to reading a full script) is the closest written equivalent to the look of your film.
If a screenplay focuses the story for a film, the treatment does the same thing for a screenplay. A treatment could be considered a written pitch; something that catches the buyers attention and makes then want to see more.
One big difference between treatments and screenplays is that treatments are written in paragraph form where as screenplays have a very technical format. Keep the language simple yet forceful and declarative. The purpose of the treatment is to describe the events of the story so that it can be visualized and brought to life. This should be done using the least amount of words possible.
There are several aspects of a treatment that must be in place in order for a treatment to be effective. These include a solid opening that takes hold of the reader from the very beginning. There must also be a climax to the film that strikes and satisfies them. In between, there must be a protagonist (or main character) that the reader can relate to in some way. This does not mean that the main character will always be a hero or someone that the audience likes, only that the protagonist is someone that stands out and draws the audience in. The story must also contain a central conflict around which all the action in the story revolves.
MOONDANCE RECOMMENDS:
HELP STOP THE SLAUGHTER OF AFRICAN ELEPHANTS!
Craigslist's own policy prohibits the sale of animal parts, including ivory on its sites. And yet, right now, the sale of ivory is rampant on Craigslist.
Do they know that all ivory comes from dead elephants?
Craigslist's policy is humane and simply the right thing to do. But they need to follow through and enforce their own rules.
The Wildlife Conservation Society just conducted a joint investigation with their friends at the International Fund for Animal Welfare and what we found was shocking. A sample of Craigslist sites, in cities both large and small, yielded hundreds of postings for ivory – valued at well over one million dollars!
tell them to end the sale of all ivory products!
~~~~~~~~~~~~~~~~~~~~~~~~~~~~~~~~~~~~~~~~~~~~~~~~
QUIET ON THE SET!
TEEN FILMMAKERS PROGRAM

QUIET ON THE SET! Is a unique, no-cost filmmaking program for inner-city & at-risk teens. These teens will have the opportunity to progressively develop their education and knowledge of filmmaking and build their life skills here. Our mission: Make a positive, lasting difference in the lives of these teens. Our workshops most effectively meet the needs & criteria of communities through educational enhancement, life-skills development & recreational style technical training in filmmaking. Please support this vital effort to help the next generation of filmmakers:
https://www.crowdrise.com/quietontheset
SOME THINGS TO CONSIDER: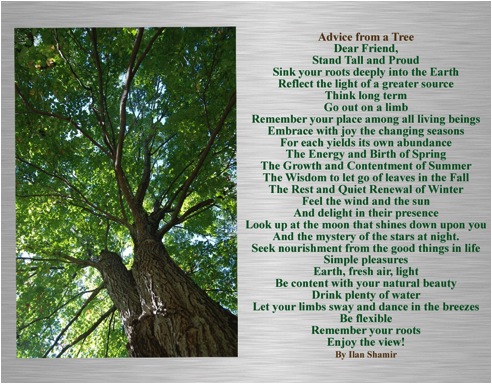 Soak up the sun

Affirm life's magic

Be graceful in the wind

Stand tall after a storm

Feel refreshed after it rains

Embrace each changing season

Provide shelter to strangers


Stay deeply rooted while reaching for the sky

Be still long enough to
hear your own leaves rustling
Sink your roots deep into the earth
Reflect the light of your true nature
Go out on a limb
Remember your place among all living things
Yield your abundance to others
Rest in winter
Emerge renewed at the first signs of spring
Feel the rain, the wind and the sun with delight
Look up at the moon as it shines upon you
Seek nourishment from the good things in life
Be content with your own natural beauty
Drink plenty of fresh, clean water
Be flexible
Remember your roots
And enjoy the view!
"If you would know strength and patience, welcome the company of trees." ~ Hal Borland
~~~~~~~~~~~~~~~~~~~~~~~~~~~~~~~~~~~~~~~~~~~~~~~~~~~~
"It is the province of knowledge to speak, and the privilege of wisdom to listen." ~ Oliver Wendell Holmes
~~~~~~~~~~~~~~~~~~~~~~~~~~~~~~~~~~~~~~~~~~~~~~~~
"Great minds discuss ideas; Average minds discuss events; small minds discuss people." ~ Eleanor Roosevelt
~~~~~~~~~~~~~~~~~~~~~~~~~~~~~~~~~~~~~~~~~~~~~~~~~
"Rowing harder doesn't help if the boat is headed in the wrong direction." ~ Kenichi Ohmae
~~~~~~~~~~~~~~~~~~~~~~~~~~~~~~~~~~~~~~~~~~~~~~~~~~~
"There are three ways of acting wisely. First, by meditation; that is the noblest. Secondly, by imitation; that is the easiest. Thirdly, by experience; and that is the bitterest." ~ Confucious
MOONDANCE ALSO RECOMMENDS:
MORE THAN 25 MILLION BARS OF SOAP RECYCLED
FROM 500,000 HOTEL & MOTEL ROOMS
DISTRIBUTED TO 99 COUNTRIES!
How Clean the World is changing the world: According to the World Health Organization, millions of young lives could be saved with access to bar soap and family hygiene education. Saving lives requires a holistic approach that integrates soap with a comprehensive water, sanitation and hygiene program. By recycling soap and other discarded hygiene products, Clean the World saves lives with items that traditionally end up in landfills. Clean the World has a two-part mission: Collect and recycle soap and hygiene products discarded every day by the hospitality industry and other sectors that generate environmental waste.
An estimated 1.9 billion school days could be gained if safe water, sanitation facilities and hand-washing with soap & clean water were standard across all schools. Our Soap in Schools program aims to help learning performance and health by reducing the incidence of water and sanitation related diseases. Special emphasis is placed and teaching hygiene and creating a habit that will be sustained into adult-hood. Through the distribution of these and other donated products to impoverished people, prevent millions of hygiene-related deaths each year, reduce the morbidity rate for hygiene-related illnesses, and encourage healthy, vigorous childhood development. LEARN MORE: https://cleantheworld.org
Or Zimrah
at the Boulder Theater 2015
OUR MOONDANCE WEBSTER,
Norm Strassner, the man on the far right in this video,
plays electric bass guitar in this local soft-rock/spiritual band!
("Or Zimrah" in Hebrew means Make a Joyful Noise or melody)

Please forward this news-blog to your creative artist colleagues!
  QUESTIONS OR COMMENTS?
director@moondancefilmfestival.com
WEBSITE: www.moondancefilmfestival.com
BLOG: www.moondancefilmfestival.com/blog
No trees or natural habitats were harmed in the creation of this news-blog!