2012 CALL FOR ENTRIES
2012 CALL FOR ENTRIES!
Check out the Moondance website for more info!
http://www.moondancefilmfestival.com
FEATURE FILMS
SHORT FILMS
DOCUMENTARY FILMS
ANIMATION FILMS
MUSIC VIDEOS
FEATURE SCREENPLAYS
SHORT SCREENPLAYS
ORIGINAL MUSIC & FILM SCORES
STAGEPLAYS
TV PILOT SCRIPTS
FILMED TV PILOTS
SHORT STORIES
TV EPISODICS
LIBRETTI
RADIO PLAYS
& MORE…
SUBMIT YOUR ENTRY TO MOONDANCE NOW!
Don't wait until the last minute…get your entry in early,
and take advantage of the discounted Early-Bird entry fee!
CLICK BELOW FOR 3 EASY WAYS TO SUBMIT YOUR ENTRY:
• MOONDANCE OFFICIAL ENTRY FORM
• WITHOUTABOX.COM SUBMISSION SERVICE
Are you undecided about which film festival competitions to enter this season?  You can't go wrong by choosing Moondance first, because our finalists & winners, writers, composers and filmmakers are happy to discover that doors are finally opened to them after being a part of the Moondance! Please check out our SUCCESSES page, and read our archived newsletters to see what great new opportunities Moondancers enthusiastically write to us about! You could be next! MOVIEBYTES.COM  Lists Moondance as "one of the top ten film festival competitions worth the entry fee!"
WE'RE LOOKING FOR A FEW GOOD
FILMS, SCRIPTS, STORIES, FILM SCORES & more!
Artwork by J. Howard Miller
CHECK OUT MOONDANCE AT WIKIPEDIA:
http://en.wikipedia.org/wiki/Moondance_International_Film_Festival
MOONDANCE SCRIPT CRITIQUES:
Cynthia Butler, Moondance's very popular reader will write a one-page critique and assessment of your submitted screenplay, stageplay, teleplay or up to 3 short stories. Check off the box for critiques on the Moondance entry form or at Withoutabox.com. The fee is a nominal $75 for each critique requested.
2012 MOONDANCE FESTIVAL AT SEA!
Imagine sailing on the clear blue seas of the Caribbean while attending the 2012 Moondance International Film Festival! Between professional workshops, indie film screenings, networking cocktail parties, and gala awards ceremony, enjoy all that a 3-day luxury cruise aboard a cruise ship has to offer. All for one low, affordable package price, which includes cabin, a wide variety of entertainment options, shore tours, all-you-can eat 24 hours a day, as well as all of our famous film festival events: Bahamas cruise AND film festival in one! Forget winter weather; experience the perfect weather, sparkling blue seas and the warm sun of the Caribbean in December!
MOONDANCE AT SEA is in the early planning stages, so please let us know if you'd be interested in joining us on this unique film festival cruise. We cordially welcome international filmmakers, writers, composers, families and all indie film buffs. The 3-day film festival cruise package will only cost in the range of $500-$750 (depending on number of attendees & cabin accommodations selected), and all festival events, + 3-day Bahamas cruise are included in this amazingly low, low ticket price! Please email right now: moondancefestival@gmail.com, with MIFF CRUISE in the subject line, to let us know if you like the idea of a festival at sea, and if you'll want to join the Moondance crew, and let's make a splash!
Some of the many enthusiastic responses to the Moondance Festival at Sea invitation:
"I think the idea of the festival cruise is a fabulous idea. We would love to attend and submit 2 feature films plus a short." ~ Ciaron Davies, Loose Gripp Films and Media Website: http://loosegrippmedia.webs.com/
"I love the idea of the Moondance festival at sea.  I'll be there!" ~ Kim M. Brantley
"This is a brilliant idea and I would definitely be interested in participating in any capacity. What could be better than combining a cruise and Moondance? I haven't been to Moondance or the Bahamas, so this sounds like a wonderful chance to do both." ~ Glenda Cimino, screenwriter
"YES!!!! Yes, I love the idea! Count me in! ~Anna Young, Rugged Island Productions
"I love the festival cruise idea!" ~ Linda Roberts
"I love the idea of a Bahamas cruise for the 2012 Moondance! I'm definitely interested in attending." Donna Lisa, Moondance multi-award-winning writer
"What an awesome idea. I'm in." ~ Patricia Semler, screenwiter
"We are very interested in the proposed cruise." ~ Venetia Taylor & Daniel Prypchan, production house, Sydney Australia, www.humanproductions.com
"I am interested in the upcoming MIFF CRUISE 2012. I would like to reserve two spaces." ~ Anya Juan Risco, filmmaker, Carpe Diem
"The film festival cruise is a great idea; it sounds like a wonderful time!" ~ from a Moondancer
"Congrats on this new adventure!" ~ Robin Lu, writer
Scroll on down for more news & items of interest!
SCREENWRITERS: OCCUPY HOLLYWOOD?
We are the 99% who can't get an honest read for our work!
It seems that the powers-that-be in Hollywood simply will not even bother to look at a script unless it has won top competitions, and/or has name producers, a big distributor, name talent, award-winning director, or, more importantly, massive production funding attached. How many un-produced screenwriters have access to many, many millions of dollars and Hollywood stars? And, of course, a writer absolutely must have a top Hollywood literary agent to even get in the door, but they generally do not accept unsolicited work. And you can almost forget about getting your script read if you happen to be a woman, live outside L.A., and don't know anyone in the business. It looks like an "Old Boys" club for the fortunate 1%, with all doors firmly closed unless you're a rich, famous, connected and successful member. Can this unfair Hollywood system be changed to give talented writers a better chance to get produced?
MOONDANCE KUDOS:
Coca-Cola and the World Wildlife Fund (WWF) are working together to protect the polar bear's Arctic habitat. In fact, Coke has made an initial $2 million donation to WWF for polar bear conservation. To get involved yourself, you can text your package code to 357357 to make a $1 donation to WWF. Coke will match all donations — up to $1 million! You can also donate online at ArcticHome.com. This is the first time Coke has ever changed the color of their iconic Coke cans. So during the holiday season (up to February, 2012), you will find all Coke cans and bottle caps have gone white as a reminder to get involved to save the polar bear's endangered Arctic habitat!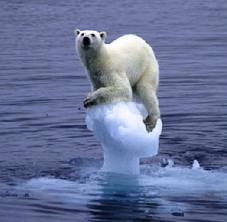 MOONDANCER NEWS:
Drama students at Shadow Mountain High School are getting accolades for their television pilot. The students shot the pilot for "The Drama" last spring with the hope of pitching it to local and national networks. "The Drama" follows a class of drama students preparing for their spring musical. The project was the "Filmed TV Pilot for Kids Winner" at the Moondance International Film Festival in Boulder, Colo. "A bunch of people from all around the world got to see it. They even wrote about it back in Ireland," said Joe Flowers, theater director at the northeast Phoenix high school. Student filmmaker Matthew Grodsky, a senior, hopes the awards open some doors for his budding film career. He co-authored and co-directed "The Drama." The script also won best TV Pilot Script at Moondance. http://www.azcentral.com/
FIRST IMPRESSIONS:
TITLES & LOGLINES
By Elizabeth English
Have a fabulous, unique idea for a movie? That's wonderful, but you need to know how to turn your great story into a great logline. There is and always has been only one real secret to success in the entertainment industry. Tell a great story. Period. And you need to figure out how to tell that fabulous story in only 25 words or less! You need to learn how to get your script or film idea enthusiastically read by an agent and then a producer, director and actors. Learn what they look for in a title and logline. Your first impression to these movers and shakers is all about the fine art of pitching your film or screenplay, your TV series concept or story idea, via your eye-catching title and logline.
"SELL THE SIZZLE; NOT JUST THE STEAK!"
A great title for your film or screenplay is the first (and maybe only) introduction to an agent, a producer, director, film distributor, or studio. "You've got 3 minutes; pitch me what you've got," is what you'll hear from the entertainment industry movers & shakers who might buy your project. But you probably wouldn't even get that meeting, or a reply to your query letter, if you didn't have an interesting title and logline that caught their eye.
You can often find that great, eye-catching title within your screenplay text, and then write a sizzling logline to go with it. Know how to "dress" your script for success, make it stand out from all the others, and get it noticed in the first round.
Whether you're a newbie, a struggling writer, or an old pro; a screenwriter, television writer, or filmmaker, you need to know the latest & greatest on how to break in to today's film & television industry, how to further your success, and how to get your spec screenplay put into the "weekend read" pile, and seriously considered within the Hollywood shark-pit. And how to adapt your logline for whomever will be reading it. Yes, I hate to say it, but you'll need different loglines for the same script, for sending it out to a director, a producer, an actor or an agent. That very first impression may be the only chance you've got. If your title & logline don't hook them, they may never preview your film or read your script. And remember, it's worth a whole LOT of money, if it sells the story.
As screenwriters, we use dynamic titles and loglines to sell our scripts. We use them in query letters to impress agents and to get their attention and to encourage them to ask to see the script. We need a title and logline that really rocks! Great loglines can often work better as a sales tool than whole screenplays can do. Agents, readers, story anylists, and producers are looking for easy, quick reads. Loglines provide less for them to say "no" to than a synopsis or a complete script does. The logline introduces the story to them, without forcing them to read the whole script to know what your story is and if it might be a concept they can sell to a producer.
HOW NOT TO WRITE A LOGLINE
Don't simply summarize your movie with set-up, conflict, and resolution. Don't just write a one-sentence TV Guide-style logline emphasizing the main storyline. Don't limit yourself to the set-up or the plot. Don't write that the story is "exciting", "amazing", a "blockbuster". Never describe the details of your script in the logline or leave out important information. Try not to use your characters' names in a logline.
WHAT YOU SHOULD DO:
Do emphasize the unique elements of your script that enable audiences and readers to connect with the situation and to identify with the protagonist. Do use "buzz-words", like "love", "death", "sex", "adventure", "mystery", "romance" that help the reader identify with the story. Consider writing a high-concept line at the end, to make your story instantly recognizable to anyone. A high-concept logline might be something like "When Harry Met Sally" aboard the "Titanic". Or "Braveheart" meets "City Slickers", or even "Shakespeare In Love" with "The Witches of Eastwick".
You've got to cram a lot into a short, three-sentence logline: genre, conflict, character, action, location, time, any crisis to be resolved, hint at the potential transformation of the main character, marketability, and do it all in 25 words or less, all in present tense. And it needs to sizzle! The synopsis and logline are the keys that open the door to getting your script read. The same amount of thought that a writer takes in writing a script should also be taken in writing the logline. A logline is not a mini-version of your script or film! It's much, much harder to write the three-sentence logline than it is to write the 100 to 120 page screenplay.
A reader should be able get the full story concept of the script or film from these one to three sentences. He or she should know immediately what the whole movie is about and get excited about the story-line and idea, and can visualize the finished film. Always consider who your target audience is. Who's going to be reading your title and logline first? Unfortunately, your first reader may be a young college intern working for free in the producer's or agent's basement mailroom. Your first reader could well be the producer's temporary secretary, or a jaded and bored assistant. He might be a guy who only likes "Scream" or "Matrix" and you've asked him to read your romantic comedy, "Sleepless in Seattle" script. Or your first reader could be a young woman who loves "The Ya-Ya Sisterhood" and you've mailed out "The Rock". Use that title and logline to make them sit up and take notice, and then to send the script up to the next level.
GREAT TITLES:
I received a script submission, entitled "JENNY, THE RED-HEADED WHORE". I didn't want to read it. It went to the bottom of the pile to be read when I absolutely had to. Well, guess what? When I finally read the script, with much trepidation, it was one of the best scripts I'd ever read! This script was one of five top finalists for Moondance. I convinced the author to change the title to "THE VIRGINS".
Another writer sent me a script called "THE TENT". Who wants to read about a tent? In her script, however, I learned that the protagonist was a big, strong and independent woman who braved a winter in Alaska in a tent. Her family even called her "Alaska". So when she and her husband had finally completed the log cabin, they climbed up on the roof to enjoy the Northern Lights in the night sky. He reached his hand down to her and said, "Dance with me, Alaska." That great line of dialog became her new script title! It was there all along and just needed to be found.
The title of your screenplay needs to fit perfectly with your logline and be attention-getting. Titles are like mini-loglines in that they must be unique and they need to attract interest and make the reader want to go ahead and read the logline. But be sure to go to IMDb.com to see if your title has been used before. IMDb.com has a listing of every film produced from the 1800s to today's films and those that are in pre-production and production.
But then again, what was "Claire's Knee" all about? It was a unique title and made them look! "Forrest Gump" took ten years of rejections from every studio and producer in Hollywood. What if the writer had changed the title and logline to help it be seen as the potential blockbuster, Oscar-winning  film that it became?
ADAPTING YOUR LOGLINE TO YOUR READER'S INTEREST
An agent, actor, producer or distributor wants to read screenplays that he or she can instantly recognize as sellable to a wide audience. Producers think about production costs, the available budget and marketability. Directors, on the other hand, want to read screenplays that will show off their talents in the best light and offer them artistic challenges, and maybe even win them an Oscar. Actors want to read screenplays that showcase their acting ability and which give them the best role and best lines in the film. Story editors need to see a unique, sellable idea they can take upstairs. Readers and story analysts want that one fabulous concept they can bring to the attention of a producer, story editor or creative executive. Distributors want to read about a potentially profitable film, a "popcorn movie". Interns are often told to recommend no more than ONE screenplay a year! You need to make sure that one is yours, by altering the wording & focus of your logline to appeal to each reader and potential buyer.
Remember, your all-important first impression gets you in the door to pitch your film or story, and may be worth millions of dollars and that success you've been working toward as a filmmaker or screenwriter.
Ms. English is the founder, executive director and artistic director for the Moondance International Film Festival, now in its 12th fabulous season. She's also a filmmaker, with 3 short films, One of which has won awards across the US & Europe, and was screened during the Cannes film festival; a professional screenwriter, with some 35 completed feature screenplays, 3 TV pilots, 2 produced original stageplays, produced libretto/operas, and she presents workshops on successful screenwriting & filmmaking at Moondance, and elsewhere. English also writes published columns and articles on screenwriting, as well as writes for and edits the Moondance E-Zine. Please check out her screenplay & film evaluation & editing service at www.mermaid7seas.com
WINTER SOLSTICE & LUNAR ECLIPSE
The Winter Solstice takes place this year on December 21, 2011, and it will coincide with a total lunar eclipse of the full moon visible through most of the globe. It's been 632 years since the first day of winter and a lunar eclipse have occurred on the same day!
Facing the Eclipsed Winter Solstice
by Franco Santoro
This is a major astrological event abundant with exceptional energetic and symbolic meaning. Most ancient cultures and traditions identify the lunar eclipse with calamities and apocalyptic events.
This is indeed the darkest time of the year in the northern hemisphere, yet it is also the most abundant with hope, for it heralds the inevitable return of light. The Winter Solstice intensifies the trust in the luminosity in each one of us, including the world and the universe at large.
The Winter Solstice is the doorway into winter and the peak of obscurity. This can be a time of slowing down, when we have the opportunity to withdraw in the inner world, embracing the highest dreams and aspirations. During this season we can easily come to a deeper understanding of life, giving up outworn patterns, becoming receptive to wide visions, setting honourable intentions in preparation for upcoming luminous enterprises.
Winter is also a major time of healing connection between the visible and the unseen, body and spirit. The power of this season involves including all aspects of life and death, reaching a climax in our perspective and awareness. It is a time when we can rise above the limitations of our narrow perceptions.
A MOONDANCER WRITES US:
The Moondance at Sea sounds heavenly!  We shall see what happens with current screenplays and more writing in the coming year. The Moondance Film Festival has been a great stimulus, support and a gift to both Mark and me. The writing awards we have won through the Moondance Screenwriting Contests continue to spur us onward! ~ Marcie Telander, Moondance-winning co-writer 2010, feature screenplay "The Rites of Spring"
THOUGHTS FOR THE DAY: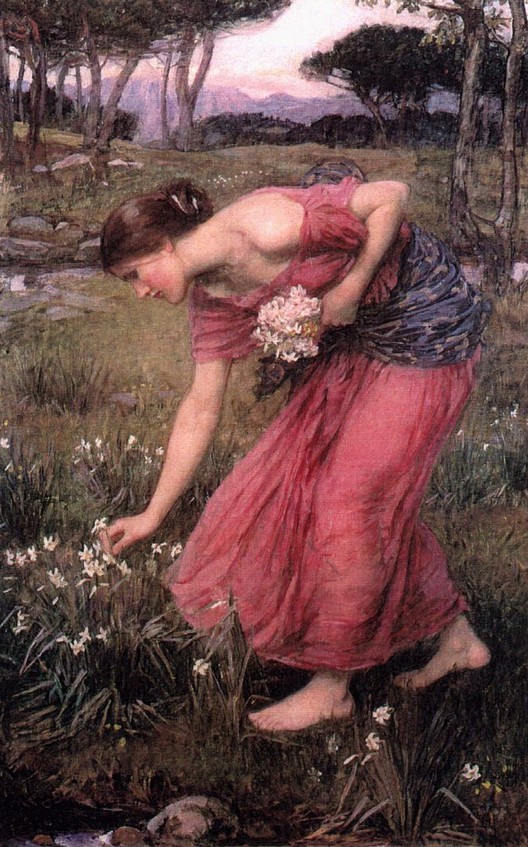 "Narcissus" by John Waterhouse
"Forget not that the Earth delights to feel your bare feet, and the winds long to play with your hair." ~ Khalil Gibran, poet
"I would rather think of life as a good book. The more you get into it, the more it begins to come together and make sense." ~ Rabbi Harold Kushner
"The ideals which have lighted my way, and time after time, have given me new courage to face life cheerfully, have been kindness, beauty and truth." ~ Albert Einstein
"It's good to fail now and then – you learn a lot more out of failure than you do out of success." ~ Ian Hunter
"It is always in the midst, in the epicenter, of your troubles that you can find serenity." ~ Antoine de Saint-Expery
"People of integrity expect to be believed. They also know time will prove them right, and are willing to wait." ~ Ann Landers, advice columnist
"Do not insult the alligator until after you have crossed the river." ~ Haitian Proverb
"The human race has only one really effective weapon, and that is laughter." ~ Mark Twain
"It can be argued that strife and turmoil can lead one to greatness. One's sense of purpose, once tested by adversity, becomes reliably firm, and one's understanding of the world, once questioned amidst sorrow and misconception, can be forever enhanced. Good can come out of bad." ~ Elizabeth George, author, excerpt from "In Pursuit of the Proper Sinner", Bantam Books
One ship drives east, and another west,
Both the self-same winds that blow;
'Tis the set of the sails
And not the gales
Which decides the way to go.
~ Ella Wilcox Wheeler
THE ENDANGERED CHAMBERED NAUTILUS
The chambered nautilus periodically erects barriers inside its shell as it grows, leaving a series of unoccupied spaces behind. The word "nautilus" comes from the Greek for boat. When the first nautilus shells arrived in Renaissance Europe, collectors were stunned: They saw the perfect spirals as reflecting the larger order of the universe. Oliver Wendell Holmes admired the silent toil that produced the lustrous coil, in which he admires the ship of pearl: "/Still, as the spiral grew / He left the past year's dwelling for the new." He found in the mysterious life and death of the nautilus a strong inspiration for life and spiritual growth.
Naturalists have long marveled at its shell. The logarithmic spiral echoes the curved arms of hurricanes, labyrinths, and distant galaxies. It is a living fossil whose ancestors go back a half billion years — to the early days of complex life on the planet. Now marine biologists have begun to assess the status of its populations and to consider whether it should be listed as an endangered species to curb the shell trade.
MOONDANCE IS SEEKING DONORS, SPONSORS & FRIENDS!
Dear Friends of Moondance International Film Festival: Please seriously consider helping support Moondance's on-going efforts to promote, inspire and encourage the world's independent filmmakers, writers and composers, with a financial donation to start off the new year right! Your contribution makes it possible for us to enlighten, inspire, enrich, educate, and entertain through film, writing & music. Any donation amount is greatly appreciated.
A donation of $1000 or more, to help fund our 2011 film festival, will put your name, or your company's name, in the Moondance credits as a co-producer: on our website, in the newsletters, and in the festival print program!
Thanks a million!
TO DONATE NOW, GO TO: http://www.acteva.com/go/moondance2011
TO SEE OUR SPONSOR PAGES, GO TO: http://www.moondancefilmfestival.com/04_sponsors.info.html
SPECIAL LIMITED-TIME OFFER*! Anyone who donates $1000 (or more) in 2011 to support Moondance's continuing efforts to help make the world a better place through film, writing & music, will receive this brand-new, beautiful custom-made Luna Guitar with Victorian-era Mermaid art on both sides as a gift for your generous, much-appreciated financial support!
DONATE AT: http://www.acteva.com/go/moondance2011
* free shipping within the US.
Extra shipping fee if shipped to a foreign address
OTHER OPTIONS & MOONDANCE SPONSOR INFO: http://www.moondancefilmfestival.com/04_sponsors.info.html
EXTRAORDINARY MOONDANCE OPPORTUNITY:
Would you like to host the best of Moondance films & workshops in your community, anywhere in the US and in the world? Bring Moondance to your area! Contact Elizabeth English now at director@moondancefilmfestival.com to discuss the details and the many benefits!
Please forward this news blog to friends and colleagues!
www.moondancefilmfestival.com/blog
PLEASE NOTE: If you wish to reply to this email, with a question or comment, please remember to change the subject line! Otherwise, your email will be received stacked all together with every other email response if using this subject line unchanged, and we may miss seeing your email!