HAPPY ST. VALENTINE'S DAY!
2012 CALL-FOR-ENTRIES!
Send in your entry now!
Regular submission postmark dates: January 1-June 30, 2012
Check out the Moondance website for more info!
http://www.moondancefilmfestival.com
SUBMISSION CATEGORIES:
Feature Screenplays, Short Screenplays, TV Pilot Scripts, TV Episodics, Short Stories, Stageplays, Libretti, Feature Films, Short Films, Documentary Films, Animation Films, Music Videos, Filmed TV Pilots, Film Scores, & more!
3 EASY WAYS TO SUBMIT YOUR ENTRY:
• MOONDANCE OFFICIAL ENTRY FORM
http://moondancefilmfestival.com/03_submission.entry.html
• ACTEVA SUBMISSION SERVICE
• WITHOUTABOX.COM SUBMISSION SERVICE
https://www.withoutabox.com/login/1240
Moviebytes.com lists Moondance as
one of the top ten competitions worth the entry fee!
~ Thanks for all the great entries received, so far, in 2012! ~
We cordially invite all local, national and international screenwriters and filmmakers, playwrights, short story writers, TV writers, radio play writers & producers, librettists, music composers, children's filmmakers & writers, and young people, students, seniors, music video filmmakers, and multi-media filmmakers to participate in this truly international film festival.
_______________________________________________
THE MOONDANCE MISSION:
• The long-term vision of the Moondance International Film Festival is to preserve and revitalize our intangible heritage, cultivate creative diversity, develop an intercultural dialogue, promote non-violent conflict resolution, to raise awareness of the invaluable contributions of women to the entertainment community, and to encourage environmental conservation & protection.
• We wish to actively participate in creating a bridge of understanding to another person's or culture's experience, and to stimulate this creative resource in writing, film and music. Our mission is to present an inspiring, vibrant and growing collection of films, music, and writings, which are an ideal means for communication across perceived boundaries of race, culture, age and gender.
• We believe that the world's most powerful narrative and educational medium – movies and television, as well as scripts and music can contribute to a healthier society and that these works should encourage the active involvement of audiences to connect and act collectively to address social challenges. Winning and finalist films, scripts and music are innovative, distinctive, compelling and engaging, relevant to varied audiences and encourage participation.
• We are eager to continue to be one of the most important film festivals in the world by being innovative, risk-taking, truly independent, and open to new thinking, new concepts, new talent, and new ways of telling stories. Let's make a splash!
______________________________________________________
Please take a moment to watch this beautiful video:
http://www.youtube.com/watch?v=nUDIoN-_Hxs
Video by Philip Scott Johnson "500 Years of Female Portraits in Western Art",

Music: Bach's Sarabande from Suite for Solo Cello No. 1 in G Major, performed by Yo-Yo Ma.

Nominated as Most Creative Video
2nd Annual YouTube Awards.

For a complete list of artists and paintings visit http://www.maysstuff.com/womenid.htm
______________________________________________________
• In our continuing success of promoting top-quality original indie filmmaking, writing and music composition by talented artists from around the world, the Moondance International Film Festival is very proud to announce that our annual festival competitions have brought in great submissions, in all genres and categories, from Afghanistan, Australia, Austria, Bangladesh, Belgium, Bosnia & Herzegovina, Brazil, Bulgaria, Canada, China, Colombia, Costa Rica, Croatia, Egypt, Estonia, Finland, France, Georgia, Germany, Greece, India, Iran, Iraq, Ireland, Israel, Italy, Latvia, Lithuania, Malta, Marshall Island, Netherlands, New Zealand, Portugal, Russia, Saudi Arabia, Serbia/Montenegro, Singapore, Slovenia, South Africa, Spain, Switzerland, Tasmania, Turkey, the UK, the US, and Venezuela. Send in your submission now, to represent your country!
______________________________________________________
FIRST IMPRESSIONS: TITLES & LOGLINES
"You've got 5 minutes; pitch me what you've got." That's what the entertainment industry movers & shakers will tell you. But to get that meeting or even a reply to your query letter, you need an interesting title and logline. Ms. English has developed a method for finding that great, eye-catching title, and a sizzling short logline to go with it. You'll end up with a great title & logline, and knowing how to "dress" your scripts or films for success! WEBSITE: www.mermaid7seas.com
CONTACT: Elizabeth English • mermaid7seas@gmail.com • 303-545-0202
______________________________________________________
* SCROLL ON DOWN FOR MORE ITEMS OF INTEREST:
1. DVD vs. DIGITAL ONLINE FILMS
2. FILM AS COMMUNICATION
3. MOONDANCERS WRITE US!
4. MOONDANCE RECOMMENDS
5. LOTS OF THOUGHTS FOR THE DAY
______________________________________________________
FILMMAKERS:  DVD vs. DIGITAL ONLINE FILMS:
As a judge and the artistic director for the Moondance, I personally prefer DVDs for previewing and judging films submitted, because the quality of image and the sound is almost always much better than what one sees and hears with an online film. I'm assuming that filmmakers want to present their very best-quality project when spending money for entry fees to competitions. I realize that submitting digital films is more convenient and less expensive for the filmmaker than making and mailing a DVD to the competition, but you've already spent a lot of money, time, talent and effort to make the film…why not spend a few dollars more and a little time to submit the absolute best version of your film that you can? By the way, the best-quality DVDs come from a video production house, rather than DVDs burned off your computer. ~ Elizabeth
______________________________________________________
FILM AS COMMUNICATION:
Living in the 21st Century is to engage in the consumption, production, and distribution of sounds, images, films, writing, music, and information. This enables creative talents and audiences to realize and gain a more sophisticated and contemporary understanding of the world around them, via media. Media is defined as the multiple channels, technologies, and interfaces through which information, ideas, art, and emotions are stored, shared, inspired and reciprocated.
And the ways in which that plethora of media shapes our understanding of the world and our ability to act in it, for the common good, can make it a better place, as well as to promote a heightened ability to analyze, contextualize, create and use all forms of media and emerging trends. Media can be a vital exercise in creative expression and positive change, through all the various entertainment mediums.
And films sell popcorn, which is a very lucrative and amazingly profitable product for the movie houses! So-called "popcorn movies" are regularly at the top of the charts for ticket sales.
Films screened at Moondance are entertaining and uniquely distinguished by our focus on the relations between media and social justice, and how media is inextricably linked to questions of power, rights, human development, peace, national and international social and environmental issues, creative expression, entertainment, collaboration, self-determination and powerful calls for action.
______________________________________________________
MOONDANCERS WRITE US!
"I am once again so overwhelmed by the beauty, sensitivity, information, helpful tips, beautiful photography, and artwork in your blog, that I felt compelled to write to you immediately. You have, as usual, put together a news blog of wonderfully helpful information done as a work of art itself. As an artist and a writer, I am most appreciative of your marvelous achievement. I also know how much effort and care you take in helping writers and artists."  Lorna Kanter, screenwriter & artist
"The presentation in class went well.  Your film festival is undoubtedly different from any of the other festivals that were discussed, which included Sundance, LA film festival, Slamdance, a human rights documentary festival, and more.  When I introduced the film festival, I mentioned that the director is a woman, and a student in the class exclaimed "Finally!"
You always hear about those big festivals, like Cannes, Venice, even Sundance.  So it was like a breath of fresh air to hear about a festival whose mission is so different.  And I really stressed the mission statement during the presentation, as you suggested, because that really is the key to the choices of films you show, how you operate, etc.  In general, people were intrigued, and some in the class might submit a film to your festival after hearing about it!  She was definitely interested after hearing that your festival supports women so much." ~ Thuongvu Ho, film student at the University of California at Santa Barbara (UCSB)
______________________________________________________
MOONDANCE RECOMMENDS:
John Lennon sings "Imagine"
http://www.youtube.com/watch?v=2xB4dbdNSXY&feature=related
Imagine there's no heaven
It's easy if you try
No hell below us
Above us only sky
Imagine all the people living for today
Imagine there's no countries
It isn't hard to do
Nothing to kill or die for
And no religion too
Imagine all the people living life in peace
You, you may say
I'm a dreamer, but I'm not the only one
I hope some day you'll join us
And the world will be as one
Imagine no possessions
I wonder if you can
No need for greed or hunger
A brotherhood of man
Imagine all the people sharing all the world
You, you may say
I'm a dreamer, but I'm not the only one
I hope some day you'll join us
And the world will live as one!
___________________________________________________
http://www.freehugscampaign.org/index.php
Watch this touching "Free Hugs" video:
http://www.youtube.com/watch?v=vr3x_RRJdd4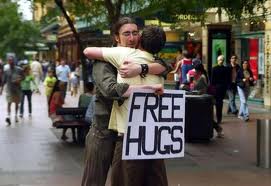 ___________________________________________________
~~~ Arbor Day Foundation ~~~
The Arbor Day Foundation is a nonprofit conservation and education organization, with a mission to inspire people and organizations to plant, celebrate and nurture trees. It also provides resources to connect children with nature. The Foundation plants and distributes more than 10 million trees each year, and helps to preserve rain forest land through the Rain Forest Rescue program.
___________________________________________________
http://www.miamiherald.com mediafreedominternational.org
"…war is a different universe. What seems normal there is appalling here. It is not too much to say that war is a form of madness." ~ Leonard Pitts. Jr., Pulitzer prize winner, 2004
___________________________________________________
THOUGHTS FOR THE DAY:
"Hollow Man" by Bruno Catalano, France
"Joy can be real only if people look upon their life as a service, and have a definite object in life outside of themselves and their personal happiness." ~ Leo Tolstoy
___________________________________________________
"One African legend of the Baobab tree describes what happens if you are never satisfied with what you have: The baobab was among the first trees to appear on the land. Next came the slender, graceful palm tree. When the baobab saw the palm tree, it cried out that it wanted to be taller. Then the beautiful flame tree appeared with its red flower and the baobab was envious for flower blossoms. When the baobab saw the magnificent fig tree, it prayed for fruit as well. God became tired of the complaints, and so yanked it up by its roots, and placed it upside down, to keep it quiet." ~ Blue-Eyed Ennis, text & photo
___________________________________________________
"By three methods we may learn wisdom: First, by reflection, which is noblest; Second, by imitation, which is easiest; and third by experience, which can be the bitterest." ~ Confucius
___________________________________________________
"With realization of one's own potential and self-confidence in one's ability, one can build a better world." ~ The Dalai Lama
___________________________________________________
"Whatever the mind can conceive and believe, it can achieve." ~W. Clement Stone
___________________________________________________
"Brooklyn Bridge", Portable Networks Graphic Images
"Integrity is the essence of everything successful." ~ Buckminster Fuller
___________________________________________________
"When small men attempt great enterprises, they always end up reducing them to the level of their own mediocrity. " ~Napoleon I
___________________________________________________
"Talent is often a disguise for hard work and determination" ~ Mac Proffitt
___________________________________________________
"It helps to have your back against the wall. Adversity is a huge advantage – as long as you think of it as an advantage – because it helps you do things you never thought you were capable of doing." ~ Philip Anschutz
___________________________________________________
"I think happiness comes from a self-acceptance. We all try different things, and we find some comfortable sense of who we are." ~ Jamie Lee Curtis
___________________________________________________
"Logic will get you from A to B. Imagination will take you everywhere." ~ Albert Einstein
___________________________________________________
"Plus la critique est hostile, plus l'artiste devrait se sentir encouragé." ("The more hostile criticism is, the more the artist should feel encouraged." ~ Marcel Duchamp
___________________________________________________

___________________________________________________
---
---